BlueFrog Cleaning Services Ltd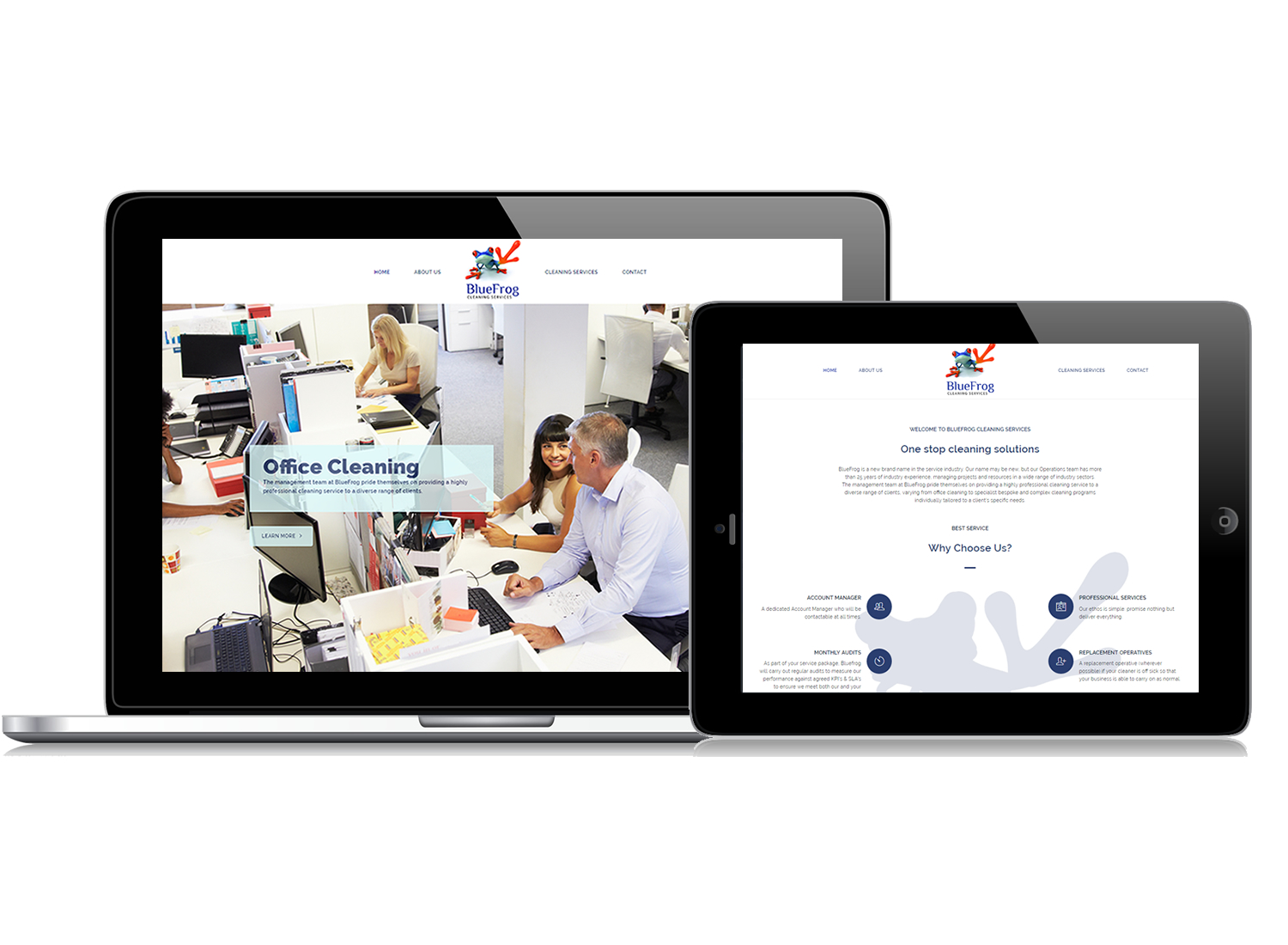 Brief
Kevin Lewis is the CEO of an international care company, and for a while had wanted to set up a cleaning company. In June 2016 Kevin pushed forward with his plans and hired Mike Ellis to oversee the project and BlueFrog Cleaning Services Ltd was formed. BlueFrog provide a range of services from daily office cleaning to complex tailored solutions across the south of the UK.
As a newly formed start-up company BlueFrog needed to have a presence on the internet, and through word-of-mouth, Mike had heard of Tri-Synergy Marketing and approached us to design a fresh and modern looking website, that would perform and deliver his business objectives.
Results
Tri-Synergy designed and built a clean and modern looking responsive website which incorporated the brand colours and at the request of the client their frog logo was selectively featured throughout the site.
Visitors to the website experience bold banners, white space, engaging imagery and a horizontal menu, which combine effectively to offer an easy to navigate site and one where visitors can easily find the list of services BlueFrog offer available.
The website was built using a WordPress template, the Content Management System accompanying the website allows the client to easily update and make changes to the text and images on the website.
View the new BlueFrog website
Testimonial
As a brand new company it was important for us to appoint the right company to design and build the BlueFrog Cleaning Service website. Tri-Synergy were recommended to me by a former work colleague.
Once we had met Natalie, Alice and Rachel, I was convinced that we were making the right decision.
A little over eight weeks after our initial consultation we were absolutely delighted with the end result and the quality of the web site exceeded our expectation levels. I would recommend Tri-Synergy for the levels of professionalism shown throughout the process and the end product; we look forward to a successful partnership.